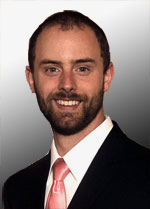 Welcome

Skyler Weaver is a highly qualified circuit designer, currently working towards his Ph.D. in Electrical Engineering at Oregon State University under the tutelage of Dr. Un-Ku Moon.

He specializes in mixed-signal circuit design and is also proficient in both analog and digital design, and programming microcontrollers for embedded systems.

While interning at Tektronix, he designed and fabricated a handheld embedded system to easily measure IC temperature.

As a graduate student, he has been involved in outreach to a Cub Scout troop, fabricating a fully-automatic timing system for their pinewood derby.

Skyler is honored to be the recipient of an SRC GRC Fellowship.

His ongoing research is in the area of highly scalable and synthesizable analog-to-digital converters.

Skyler is interested in learning more about different opportunities in the field of ASIC research and design.